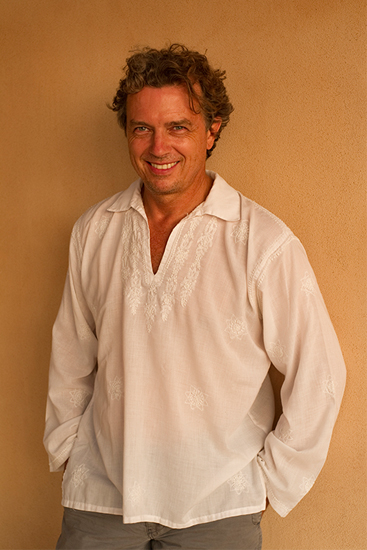 Stefano was born in Rome and brought up by his unconventional father Prince Vittorio Massimo. Photography has always been his passion, since his father gave him his first camera at the age of 12. While in London, by way of a recommendation by British Vogue art director Barney Wan, he became photographic assistant to the great ballet photographer Anthony Crickmay. Before he was twenty and while still working as an assistant, his first full page in British Vogue was published, a portrait of a very young Emily Astor. His photographic portraits subsequently appeared regularly in British Vogue, whose editor-in-chief Beatrix Miller told him that, presumably partly due to his family background, she envisaged him as a portraitist, 'a young Snowdon'.
In order to escape being pigeonholed and work in fashion photography, he moved to Milano where he began a long collaboration with Grazia magazine and cult magazine Taxi, as well as accepting commissions from Donna. His fashion, portrait and lifestyle photography has been published in many of the world's most important style magazines for 30 years, and his clients include Conde` Nast publications such as Tatler, Self and Conde` Nast Traveller. Amongst others he has worked for Madame Figaro, Spanish Marie Claire & Elle, Max, Harpers and Queen, Telegraph Magazine. For Andy Warhol's Interview magazine, art director Mark Balet commissioned a series of black-and-white portraits of musicians, personalities and actors. Though principally concentrating on editorial work, he has also worked on campaigns for Shiseido and Revlon. Other clients include Max Mara group, Versace, Boden, Selfridges, Next, M&S:
Stefano has a deep concern for social problems around the planet, which has lead to a lifelong passion for reportage photography. In 1988 he first visited Gaza and the occupied West Bank during the time of the first Intifada. His reportage photographs were published in the German magazine Stern and used in a number of British television documentaries. In 2005 he returned to Palestine to take a series of black-and-white photographs for the book "Silent Witnesses, the Lives of Palestine's Children" (foreword by HRH Prince el Hassan bin Talal) for Al Madad Foundation. Some of the photographs in the book were used by John Berger to illustrate his reading of Ghassan Khanafani's 'Letter from Gaza':
In 2006, following the disastrous earthquake In Northern Pakistan, he proposed to the same foundation the Idea of a visual document of the effects of the tragedy on its children, which resulted in the book "Kashmir's Children, the Silent Witnesses of the Earthquake" (foreword by Imran Khan, cricket star and founder of Shaukat Khanum Memorial Trust Cancer Hospital). In 2009, to mark its 25th Anniversary, Islamic Relief commissioned him to travel to Mandera, in northern Kenya as well as to Yemen and Bosnia Herzegovina for a series of black-and-white photographs documenting the numerous projects undertaken in those areas by this admirable charity.
In 2012 he photographed Delhi's most under privileged, cared for by Reeta Devi's Ila Trust Mobile Clinic.
Since 2009 he has established a permanent collaboration with the International Laboratory for Peace at the University of Rome Tor Vergata, offering the contribution of reportage images in events where science, art and social integration merge. The aim of introducing visual art in a scientific context raises the issue of expanding academic avenues, thus innovating university teaching.